UPA and love
Another one of my creative dreams has come true - we made a photo shoot about love of a young soldier. It was a very personal photo shoot with very special people. Such sensual, erotic and intimate shooting I haven't had yet.
Once I had the idea of this photo shoot, I immediately realized with whom and how it should be done. Perhaps it was the first time when I clearly knew how I want these photos to be. I wanted to show the Ukrainian Insurgent Army not only from military side, but also to show their passionate youth years.
It is hard to express my appreciation and admiration to models - Julya Glushko and Andriy Matskiv for their beauty and feelings. From the beginning I did not see anyone else in this photo shoot except them, and I was right - we understand each other without words.
The three of us have fulfilled this idea to commemorate the generation of heroes who had no opportunity to live their lives, of those who now look at us from military photos, who had difficult fate and passionate hearts - even in the gloom and fear of terror they knew how to love.
Terms of website materials usage
You can copy our materials only by mentioning the hyperlink of www.uamodna.com ( see Terms and Conditions* ). To generate code press here
Thoughts, views, tastes and appeals posted on our website are aothors' property and may not coincide with editors' points of view.
Terms of website materials usage
Get code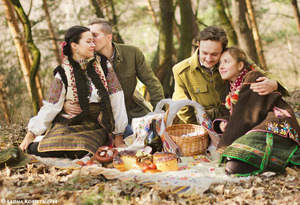 Easter of an Insurgent (UPA)
It will be the Easter of warriors, the Easter of victories, the Easter of memory of the victims. After decades the old easter greeting says "Christ is risen! - Ukraine will rise again, too!"
Watch here